What I Learnt About Moon Palace Jamaica During My 4 Day Stay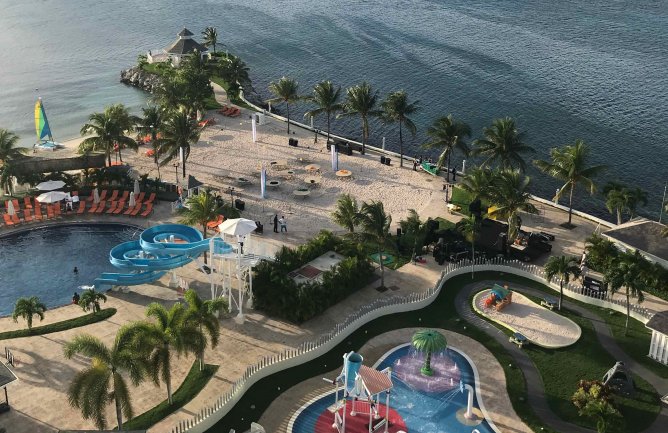 Since Moon Palace took over and renovated what was "The Jamaica Grand" in Ocho Rios, I have heard nothing but amazing reviews about the property, so I just had to go. Finally this past  December I got to do so, and overall, it was an incredible experience. The hotel lived up to its reputation by making you feel like you are in a grand and luxurious space once you stepped into that lobby. All the common areas and general amenities from the pool to the restaurants were spectacular. Maybe that's why they call it " the palace." 

The Rooms
Being honest in saying I was not impressed by the rooms at Moon Palace. I felt for a 5-star property that the rooms the room and bathroom were very small & disappointing. Once in the bathroom, you had to close the door to get into the shower that was behind the door. I had an Ocean View Suite, and while the view was spectacular, you had to stand to enjoy it, as there was no balcony to relax outside and enjoy that view with a coffee or a cocktail in hand. 
However, the bed was fantastic and one of the most comfortable beds I have ever slept in at a resort. I truly enjoyed lounging around in the mornings. My mini bar stayed fully stocked, and there was a lot of counter space. There are more room options to chose from, and larger suites, so this info is only based on the room I stayed in.
The Spa
I do not know if the Spa at Moon Palace is the best on the island because I am still working on making my way to all of them, but for now, I am going to say it is. It was more than spectacular. My spa session included 15 minutes in the dry Sauna, after which I was taken to a cold room with ice shavings which was used to cool my body down. After that, I was brought to the steam room for 10 minutes, before taken to a therapeutic pool where I spent 15 minutes. Once all of that was done, I got escorted ( by my personal concierge) to the waiting area that had these incredibly comfortable recliners, where I was greeted by my masseuse and taken to the treatment room to enjoy an incredible 1-hour massage with my husband. This type of treatment at Moon Palace will cost you a pretty penny, but definitely worth it if you can afford it. You can even customize your own experience as each of the items included in the treatment I mentioned above, can be purchased separately. 5* rating and Jamaica Travel Girl approved.

For The Kids
We brought our 2 1/2 year old son with us this time around, and while I heard much about things to do for the older "tweens" and teens, I had no expectations for what he might experience. Much to my surprise, Moon Palace is an amazing place for Kids of all ages.
The kids' centre was impressive with a phenomenal play centre, an arcade and an adjoining splash pad. Everything was clean, and the staff were exceptional. The only downside is that your child has to be at least 4 years old to be left unsupervised in the kids club, but the parents are welcome to stay and play. There was even Dolphin's Cove at the resort, so my son got to watch the Dolphin show one afternoon. Another Jamaica Travel Girl thumbs up!

The Food 
Food can make or break a vacation for most people, and if you are a FOODIE like I am, I am sure you would agree. Well, I am happy to report, I Loved the food at Moon Palace. I spent a lot of time in the Cafe near the lobby enjoying an afternoon coffee and a cookie or a dessert. They even had a Deli where you could get freshly made Sandwiches, Paninis or Pizza. There was a Japanese restaurant with incredible Sushi. The main buffet was always excellent and had so much variety; it is impossible not to find something you will enjoy. I also value top shelf liquor and was thrilled to see the bars stocked with pretty much every selection of booze including Premium Tequila, Cognac, Vodka and Whisky.
In general, my experience at Moon Palace was awesome. The hotel is located right in the town of Ocho Rios, so it's convenient to go for a walk into town if you ever feel like taking a break from the resort and explore. Within 15 minutes you have famous attractions such as Dunn's River Falls, Mystic Mountain and Fern Gully. It will cost you an average of $500 to $700 per night to stay at Moon Palace, but worth the experience if the price is not an objective. Be warned though, and the main lobby has a section occupied by some beautiful young ladies sitting behind Mac Computers, ready to lure you in and sell you on one of those "Membership" packages. If that is something you are interested in great, if not, don't fall into the trap.
Ask A Question