The Good And The Bad From My 24 Hours At Iberostar Rosehall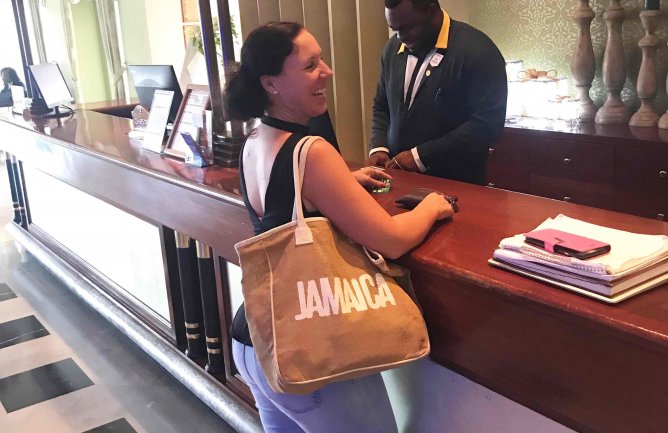 I stayed at Iberostar a few years back at their "Beach" property while on a site inspection with the Jamaica Tourist Board. I have never been a fan of large resorts, so baring that in mind, this was not my ideal spot for a vacation. This time, however,  I stayed at the "Suites", and I must say if you plan on vacationing at Iberostar, it is worth upgrading to the Suite, or the Grande if you can afford it because the overall experience and accommodations are much better.

What Was Good
Love the location of Iberostar. It is in Rosehall which is just 20 minutes away from the Montego Bay Airport and one of the most wonderful communities on the island. The hotel amenities were great. Beautiful lobby, my room was spacious with a huge balcony and a sitting area. Lovely bathroom with a full shower and bathtub. I loved the extended meal hours. Breakfast was served until 11:30 am, and lunch was served until 4:00 pm. The nightclub was amazing, one of the best I have seen at a resort. They even had jerk chicken and soup outside the club which gave you a similar feel to what you would experience after partying at a regular Jamaican Nightclub. There were a lot of families there so feel free to bring the kids. This time I didn't so, I can't speak to the kids club and areas. Food quality was great. I had boneless oxtail for the first time, and it was heavenly. The hotel was festive, and they did a phenomenal job setting up and throwing a great New Years Eve party on the beach, topped off with some incredible fireworks at Midnight.


What Was Not So Good
Generally enjoyed my time at Iberostar but not all things were perfect. The biggest disappointment for me was the selection of booze available at the bars. There was absolutely no premium liquor. I asked for Tequila on the rocks, and all they had was some nasty tasting Tequila Liquor. No cognac, no premium vodkas, nothing that would taste good straight up. If you weren't into sugary cocktails or beer, then you best have brought your own booze. I am not sure if this is the same at the Grande, but hands down the worst selection of alcohol I have ever seen at a resort. The internet was good when it was available, but too often, it was NOT. Very patchy connection. This is not a big deal for most on vacation but being self-employed, I always have to get in a few hours of work, so it was a big deal for me. Another item that is more of a pet peeve is TP! Yes, good ol' toilet paper. It was very thin and would tear every time you pulled it off the roll. Laugh if you will, but sometimes, it's the little things ;)
In general, I enjoyed my time there. The good things were good enough to make me want to go back. Next time I will stay at the Grande to see if that takes away my booze and toilet paper problems and to get a better feel of what the overall service is like throughout all the areas of the resort. I will post an updated article once I have had the opportunity to spend a few days at the Iberostar Grande.
Ask A Question