Reviewing Negril's Newest Jerk Centre After Its First Week Of Opening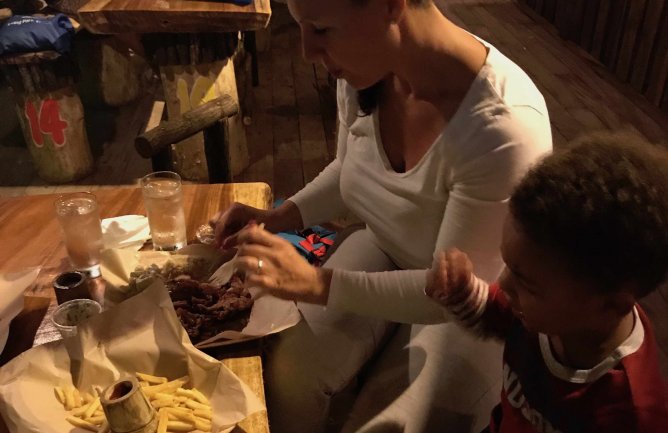 If you have travelled to Negril any time in the past 12 months, you may have noticed some development work happening right next to Azul Sensatori. That development is one of the most exciting things happening in Negril right now and will add significantly to the nightlife and dining experience in one of the Caribbeans most popular tourist areas. Island Lux is what they are calling this new spot and it will include, a Jerk Centre, The Famous seafood restaurant "Little Ochi," Devon House Ice Cream, a sports bar, a Juice Bar, and a full watersports centre.
Island Lux is not quite complete, but I am happy to report that a few of the shops are now opening up, mainly the Jerk Centre, Pimentoz, so of course, I was excited to go and experience what they are offering. The ambience is spectacular. Great music, the decor and setting feel very tropical with all the shops and furniture made from wood. The music they play is perfect and the area is already getting a lot of attention from tourist and locals.



As for the food, I tried the Jerk Chicken and a few other items on their menu with my family. These items included, Jerk Chicken Wings, Barb-Chicken which is apparently a fusion of Jerk and Barbecue, Sweet Potato Salad and Festivals. The flavour of the chicken was exceptional and will rival many of the most popular Jerk Chicken Spots in Negril. However, I have been to Island Lux twice and both times the food was served to me cold. Not warm, cold. This is something they need to address ASAP. The sweet potato salad was great, the wings were exceptional but they definitely need to revamp that recipe they are using for their festivals. It's hard to screw up something as simple as a festival that is primarily flour and sugar. Somehow Pimentoz did, and their festivals tasted more sour and vinegary than sweet.
The great news is, they are still very new and they will only get better. I believe in a few months this will be one of the top spots in Negril especially as the other shops open up. I spoke to the manager at Pimentoz and he was very eager to get feedback and make improvements. I will definitely be going back to Pimentoz and Island Lux very soon, especially because it is only 5 minutes from my house :)! Look out for more updates on the newest and hottest spot in Negril.

Feel free to submit your questions using the "Ask A Question" box on this page.
Ask A Question