Oh How I Loved Visiting Pelican Bar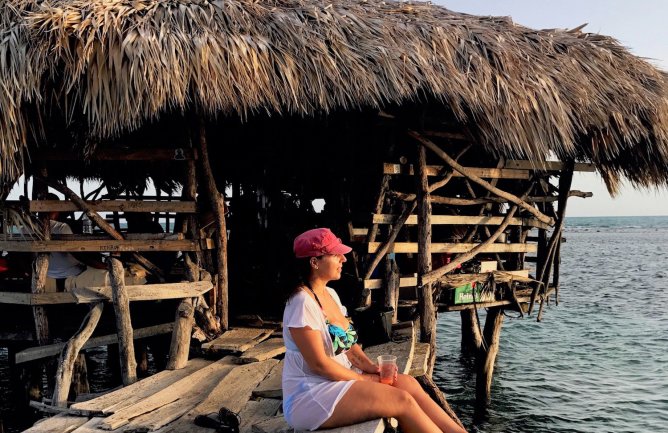 Some of the most incredible experiences are the most simple. That statement completely defines Floyd's Pelican bar. That little shack in the middle of the ocean, in the middle of nowhere, is so simple, but yet so much. It's no more than a few hundred feet offshore, but you still feel like you have been whisked away into a place where nothing matters and it's just you and nature.
Getting There
Pelican Bar is located in a small community called Parottee, near Black River, in the parish of St. Elizabeth. If you are in Negril, it will take you approximately  1 1/2 to 2 hours to get there. From Montego Bay, it would be about 2 1/2 hours. To make the most of your day, you can include a stop-over at the Black River Safari where you can interact with the crocodiles and the fantastic wildlife this river is famous for. Once you start getting close to Pelican bar, you will know as there will be many signs on the side of the road of people selling boat rides over to the bar. We drove past them all until we got to the official entrance to Pelican Bar. This journey will take you a bit off the main road, through an unpaved path, but soon you will reach what looked like a deserted beach, and way out in the ocean you will see the little shack everyone is so crazy about. It took us yelling, whistling and doing a little dance before the boat drivers noticed us and came with a boat to take us over to the bar. The cost was $US10 per person roundtrip for the boat ride. I recommend getting there for Sunset, as the experience is twice as epic.


The Bar
The bar itself is the coolest, most incredible, most permeative structure you can ever imagine. It's a wooden structure with a thatched roof, sitting on 4 pillars above the water. It has no electricity or bathroom facilities, so you have to take care of number one in the ocean and make sure number two won't be required for a few hours. The bar is covered with memorabilia left behind from past visitors. This included everything from licence plates to shirts, hats and other random pieces of object. Every inch of the wooden floor is covered with carvings of peoples names, special dates and meaningful quotes. They even had a few gift shops where you can purchase T-Shirts, Jamaican smokes (wink wink), and carvings. They had a big cooler with Ice that stored the booze, and they also offered food that was cooked to order on a very primitive looking stone fireplace.


A Surreal Experience
You don't go to Pelican Bar for the red stripe or the food. Purchasing food and or alcohol is just your way of supporting the upkeep of this incredible creation. What you go for is the incredible view of the Sunset, the peace, the calm and the complete oneness you feel with nature. The water around the bar is even shallow enough to go swimming if you so desire. The guys there were friendly and engaging. And not once did they make you feel pressured into buying anything or doing anything specifically. You were allowed to just be and do whatever you feel. There is nothing like it anywhere else on the island, and in my opinion, an experience more than worth your while.
Ask A Question