24 Hours Of Dining In Negril For $24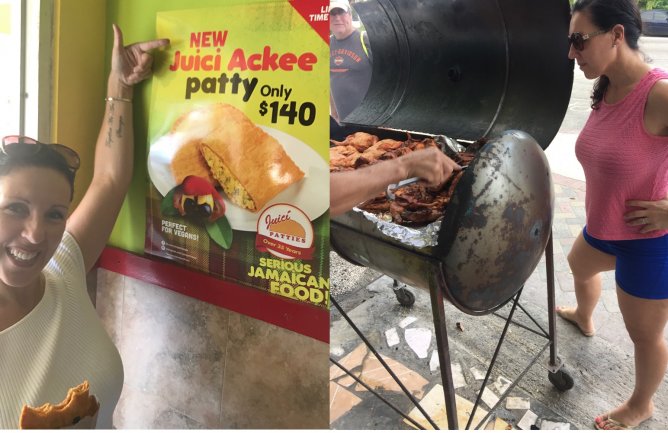 Negril Jamaica is one of the most beautiful places in the Caribbean. It is home to some of the most Popular All-Inclusive resort chains and some of the most luxurious boutique hotels and restaurants. However, vacationing in Negril and having a great time does not necessarily mean that you have to stay at one of these resorts or dine at any of the fancy restaurants. In this post, I am going to show you how you can enjoy 24 hours of delicious Negril Dining on a $US24 dollar budget.


Breakfast

Breakfast is the most important meal of the day. If you are going to spend a day enjoying all the adventures and beach activities Negril has to offer, I definitely recommend starting your day with a healthy breakfast. My favourite place to go for a fantastic and affordable breakfast in Negril is Charela Inn. Their menu has a great mix of traditional Jamaican breakfast such as Ackee and Saltfish with Johnny Cake, callaloo or American style breakfast which includes French Toast, Crossaints and Pancakes with bacon and eggs. Consider this your splurge for the day because your breakfast at Chalera will cost you an average of $US12.

Lunch
Since you had a decent size breakfast, you won't need a big meal for lunch. With that said, a Jamaican Patty and a Coco Bread is quite filling. Go into town and stop by Juicy Patties and grab yourself a Patty, A Coco Bread and a bottle of water for approximately $300 Jamaican or $U2.50.

Dinner
It's dinner time, and you have already used up $US14.50 of your budget. Most places in the world that would only be enough for junk food such as Wendy's or McDonald's. Not in Jamaica. When I am at my home in Negril and do not feel like cooking, my family and I go for a drive into town to the most popular spot in Negril, "Seaview Grill" or as the locals call it "Corner Bar." For $US4, you have your choice of curried chicken, brown stew chicken, fried chicken, curried goat, baked chicken served with a side of rice and peas or ground provisions such as build yam or banana.

Midnight Munchies
So far you have spent $US18.50 of your $24 meal budget. If you are making the most of your time in Negril, your day will not be done after dinner, because will either be checking out a live Reggae show somewhere on the beach or be heading to The Jungle Nightclub after midnight to party for a few hours. Luckily for you, you followed my meal plan, so you have enough money left to grab yourself a piece of authentic Jamaican Jerk Chicken from one of the many street vendors, for only $US4.00, leaving you with enough money to wash it down with an Ice Cold Red Stripe Beer.
Your budget will go a lot further if you convert your money into Jamaican Dollars. If you spend US dollars with the local vendors, the conversion rates they will offer you will not be that great. The best places to get your foreign currency converted is either at a local bank or a Cambio. There is a few of those in town.



Ask A Question